FROM: Brandelyn Reed
When I realized I was in need of a divorce attorney, I didn't know where to start. However, once I spoke with Nichole on the phone the first time I knew she would be the lawyer representing me in my divorce. Nichole is very knowledgeable, thorough, and always had my best interest at heart. She is easy to talk to and handled my divorce quickly and painlessly. I will always recommend Nichole to anyone in search of an attorney.
FROM: John, Joseph, David, and Emory Hodges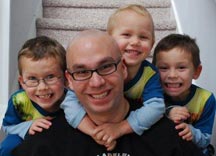 My divorce was the darkest part of my life. This is when I initially met Nichole. I was an absolute wreck emotionally and did not know which way was up. Nichole was my guide through these unchartered and treacherous waters. Through her legal skill set, she ensured that my legal rights were exercised and respected.
Through her personal touch, I came to believe that I was not just another case or client to her, but that she representing me as a friend. Today, I have an amazing relationship with my boys (aka My Mini-Mes) because Nichole demanded that my rights as their Dad be met. I give Nichole my utmost respect as an attorney and my deepest thanks as my friend. Words will never express how indebted WE feel towards her.
FROM: L. Reed
The decision to file for divorce was very difficult to make. My job was moving out of state and I was really concerned that this would make it more difficult for me to get custody. No matter what kind of crazy problem came up during my divorce I could always count on Nichole to give me sound rational advice. Her advice was always a combination of what is the best way to deal with the issue from a legal stand point but at the same time took into consideration that this was our lives and what is best for the child is always the most important thing. Thank you for our new lives. We are happier than ever.
FROM: Jacqueline Johnson
Nichole represented me in a very complex difficult divorce case which eventually went to a jury trial. During the entire process she displayed professionalism and knowledge of the law and the processes involved. Because of the circumstances, my case was very demeaning and emotional. Nichole and her entire staff treated me as they would a family member, with respect and concern not only for my case but also my health and daily living conditions. All calls or inquiries were returned in a timely manner. Hopefully I will never need this type legal assistance again, but I would not hesitate or second guess my choice of counsel, Nichole Reynolds.
FROM: Gary Burnham
Sometimes the circumstances of our lives force us to take action we really don't want to take. That was the case for me. I did not want to file for or to pursue a divorce, but the details of my marital circumstances left me no other alternative. I did not previously know Nichole, but she was highly recommended to me. I'm grateful both for that recommendation and for the superb service Nichole provided.
She knowledgably walked me through every step I needed to take and every decision I needed to make. Sometimes she guided me to see the minor details which I might have otherwise missed. At other times she helped me to back up and see the "big picture" which I might have otherwise forgotten. The information and advice she provided was excellent and invaluable. Should you need a lawyer to assist your walk down the divorce road, I urge you to let Nichole guide your path. While it was a path I did not want to travel, her efforts helped place my children and me in the best possible new life scenario.
FROM: Colleen Vedder

My name is Colleen Vedder. I am 43 years old. A few years ago I was in need of a divorce attorney. Divorce is never a pleasant process nor is it an easy one, especially when you have children involved. I am very thankful Nichole Reynolds was my attorney. She always had my best interest at heart. She is very thorough and knows family law. She is an attorney you can trust your life with, I did.


Thank you Nichole.
Colleen
FROM: Karrie Bates
Making the decision to file for a divorce is not easy; once that decision is made the next big step is to find an attorney. I had no idea where to start so I searched the internet and came upon Ms. Reynolds' number. I contacted her office and from the first conversation I knew that I had found the right person for my situation. My plan was to file for an uncontested divorce and things would be over. Well, life is not that easy and my uncontested divorce quickly turned into an emotionally, drawn out ordeal that included a Temporary Protective Order and Child Custody Issues.
Ms. Reynolds was fantastic at helping me to decide what my goal was. Once we had that established, she was able to form a game plan that ultimately worked. When a person is going through a divorce, I believe that it is easy to get caught up in the little details. Ms. Reynolds is a master of seeing the big picture and getting you to focus on the important issues. Ms. Reynolds always reassured me that we would make it through this and that things would get better. I am about a year and a half from my divorce being final and life could not get any better!
FROM: B.L.M
Nichole is a brilliant attorney with a kind heart. I credit Nichole for getting me the favorable child custody arrangement that I have now. Thanks to her, my child is safe and secure with a bright future ahead of him. I sincerely doubt that any other attorney would have been able to bring my case to a good resolution as quickly, effectively, and painlessly as Nichole did for me. If you are facing a custody battle, I strongly recommend you talk to Nichole. -B.L.M.
FROM: Email from Mother of Client
Good morning, Nichole. I came across this email just now and thought I'd let you know that Tom left for boot camp two weeks ago today! He was so excited and, from his one letter so far, loves it! God definitely works in mysterious ways and Tom would never have moved forward with the Marines had he not gone through this ordeal. Once again, thank you for all you did for us. God bless you!!!
FROM: Maria Manning
Great Qualities you would want & need in a divorce lawyer
- confidentiality
- easy to confide in
- listens to dilemma, and reacts with a positive plan
I would recommend her professional services to anyone!